Outreach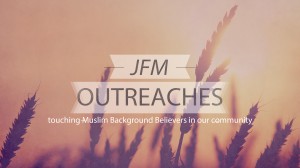 Ministries And Projects of the JFM Network:

Community Centers:
JFM supports the following community centers in the Metro New York area:
African Friendship Center in Brooklyn
Brooklyn Arab American Friendship Center
Ethnic Church Planting Ministries
Paterson Arab American Friendship Center
South Asian Community Center in Queens
The Lord is raising up people to evangelize, disciple and train various believers from various Muslim ethnic groups. Currently 10 such efforts are underway among Africans, Albanians, Arabs, Bangladeshis, English speakers, Pakistanis and Turks. There is a great need for many more workers to work among these ethnic groups, and we are especially asking the Lord to raise up workers to begin similar ministries among Iranians, African Americans and Indonesians. JFM links workers together who have ministry among Muslims of the same ethnic groups. If you speak one of these languages and are interested in participating in one of these outreaches, please contact us.
Media Ministries:
Distribution of the "Jesus Film" (15 languages) at ethnic gatherings and outreaches.
Education and Training Seminars:
JFM is able to provide seminars on Islam and Muslim evangelism in your church or group. These seminars include instruction, audio/visual presentations and testimonies. To schedule a seminar, please contact us.
Books:
JFM recommends books in different languages on reaching Muslims. These books and other literature are displayed for purchase at JFM banquets.
Refuge Center:
JFM operates a Refuge Center to assist homeless MBBs. Please contact us for more details.